Jeannie Miranda; PT, C/NDT
Expert Myofascial Release Therapist
---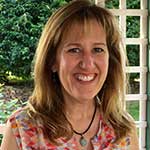 Jeannie joins Inner Circle as a physical therapist with over 30 years of pediatric experience. Jeannie graduated from Quinnipiac University with her degree in Physical Therapy and an acknowledged minor in Psychology. She has worked in a variety of pediatric settings including pediatric hospitals, NICU, early intervention, outpatient and most recently within the school setting.
A lifelong learner, Jeannie is uniquely trained as a manual pediatric physical therapist incorporating multiple methods of healing in her treatment approach. She specializes in Myofascial Release (MFR) and has over 200 hours of training in John F. Barnes – Myofascial Release (JFB-MFR). Jeannie is an advanced MFR practitioner and she continues to develop her skills in JFB-MFR. She received her Pediatric Neurodevelopmental Treatment Certification (C/NDT) in 1989. Her other trainings include Craniosacral Fascial Therapy (CFT), Strain/Counter Strain, muscle energy, Reiki and several children's yoga methodologies including Special Child Yoga, Child Light Yoga and Grounded Kids Yoga. In 2013, she received her 200 hour Registered Yoga Teacher training.
Jeannie believes in a holistic healing approach incorporating multiple healing modalities and empowering her clients' natural ability to heal regardless of age. Her diverse pediatric PT background, experience and unique training allow her to treat clients with skill, empathy and intuition. By using MFR as the basis of treatment in combination with other methods of healing, the treatment effects of other modalities are enhanced allowing for the root cause of dysfunction to be addressed.
Jeannie is a long time resident of New Hope, PA where she raised her family. She is dedicated to her family and considers her three grown boys her greatest treasures. She is passionate about life and enjoys creative pursuits, new adventures and the natural beauty in the environment around her as well as walking and yoga.