Timothy M. Alloway, M.S.P.T
Expert Myofascial Release Therapist
---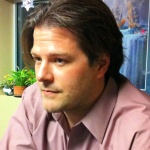 Tim was born and raised in Northeast Philadelphia and attended George Washington High School. He was a member of the world-renowned Philadelphia Boys Choir for five years; traveling throughout the world as a steward of America and Philadelphia. He attended West Chester University for two years before entering Thomas Jefferson University for his graduate work. Tim graduated from Thomas Jefferson University in 1993 with his Bachelors and Masters degrees in Physical Therapy and began practicing in myriad settings. In 1998, he founded Inner Circle in order to provide alternative and expert physical therapy services to the region. As a Physical Therapist, he felt that his peers lacked the skill-set of manual therapy and the insight to fully apply those principles to provide effective, lasting change to their patients and set out to further his knowledge and skills in manual therapy to help his patients.
A firm believer in professional growth, Tim has attended countless continuing education courses in Myofascial Release, Craniosacral Therapy, Lower/Upper Nerve Tension, Muscle Energy, Strain/Counterstrain, acupressure, joint mobilization/manipulation and has been recognized as a Certified Strength and Conditioning Specialist through the National Strength and Conditioning Association. Tim is an Expert Myofascial Release Therapist in Bucks County having trained directly under John F. Barnes, PT, the developer of Myofascial Release. Tim uses all of his expert manual therapy techniques in the treatment of his patients and has developed many manual techniques of his own. Tim is currently the lead therapist for the Intensive Program as well as developing the Body Mapping and Four-Phase Exercise Program available to all Intensive Program patients. Tim has devoted his time to helping others develop their manual skills and instructing them in the proper use and application of manual therapy.
Tim's professional goals are to continue deepening his understanding and application of manual therapy and to perhaps begin teaching on a national level. Tim currently lives in Newtown and has one daughter, Lexi. Tim's hobbies include sports, astronomy, scuba diving, marine aquariums, reading and spending as much time as he can with his daughter.