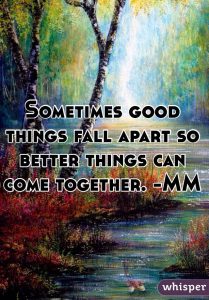 As the title of this piece hearkens back to The Byrds seminal 1965 hit that spoke to a generation; it also speaks to this past year at Inner Circle.  We thought we'd take a chance and begin our new blog with an introduction to some of the changes that Inner Circle has seen in 2017; so many changes, so many chances for possibility and new opportunity.  So many things that we had to learn to turn with  As the picture in our office states: "Sometimes good things fall apart so better things can come together".  
As most of you know, this past April, Inner Circle closed its Levittown and Newtown locations to move to our new location in Langhorne which we named The Center: a 3,500-square foot facility that houses a larger gymnasium and therapy space as well as 4 private treatment rooms.  It was a process filled with a lot of caution and uncertainty, but has proved to be something "better that came together"!
turn, turn, turn…
Following the move, we were nominated and then won the Best of Bucks for the 2nd year in a row!
turn, turn, turn…
As with any period of change and chaos, it usually precedes a time of growth and evolution; whether that be individually, in a relationship, a company or society as a whole.  This period of flux that began in the earlier part of 2017 has been followed by that same growth… literally!  We have had several special individuals join the Inner Circle family over the summer.  Maureen Alloway has begun to assist Amy in the incredibly important and stress-filled world of keeping this whole operation running behind the scenes; and we thank her for it!  Tracy Paglia has joined us as our new Physical Therapy Aide and brings an incredible wealth of knowledge along with her as a Myofascial Release-trained Massage Therapist as well as the beginning her own journey to become a Physical Therapist Assistant!  Last, but certainly not least, our newest Physical Therapist, Jeannie Miranda has joined our team to help bring her immense expertise in pediatrics to our incredibly unique practice.  Jeannie has over 20 years of experience in pediatric physical therapy as well as completing the last of her MFR curriculum next month to be recognized as an Expert Myofascial Release Therapist.
turn, turn, turn…
To top off all of that, we have recently launched our completely redesigned website at www.InnerCirclePT.com The website is extremely streamlined and user-friendly while still providing the most extensive and up-to-date information (including this fancy new blog!) to help you in making the most important decisions in your life; those decisions regarding your health and healthcare.
As always, we are here for you and are always ready to assist you in your own healing journey… never hesitate to ask us anything!
Good Journey and remember… to everything… turn, turn, turn.