Yet another Holiday Season has come and gone. The dinners have been enjoyed, the presents unwrapped, the family visited, the decorations taken down and put away and, most importantly – love, goodwill and peaceful wishes shared for yet another journey around the only star that we've ever called home.
Our annual Food Drive has been completed, with the donations delivered to the ERA Food Pantry of Lower Bucks County (www.erafoodpantry.org).  For 2018, Inner Circle and its' ever-growing family of friends and patients have donated 1,043 pounds of food and toiletries… that's over half a ton! Thank you again from all of us here at IC!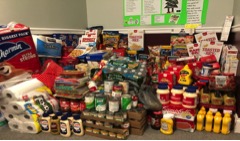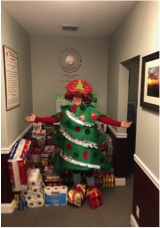 As promised, Amy graced the patients with her annual Food Drive get-up for the entirety of last week!  This is how much she cares!
As a gift for 2019, we'd like to announce the continuation of our referral program: for every patient that you refer to Inner Circle, we will gift you a $25 gift card… remember, sharing is caring, so share your experience with a loved one and help them to also reclaim a pain-free and active lifestyle!
Wishing you all Health and Happiness for 2019 and every year after!
Love,
IC